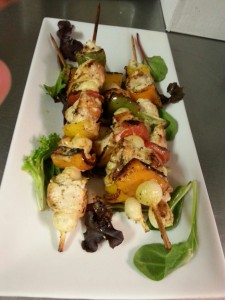 Dijon Chicken Skewers
Serves: 4 
You will need:

To make Marinate:
½ cup olive oil
1 tsp Rosemary
1 tsp Thyme
4 Skinless Chicken breasts
Salt and pepper (To taste)
To make the Mop Mix

6tbsp sour cream
2tbsp Dijon mustard
1tbsp honey.
1 tbsp lemon juice
Ingredients
4 Bell peppers each (different color *optional)
1 inch cubes
3 cups pearl onions
Wooden or metal skewers
How to do:
1. Marinate Chicken at room temp for 30 mins, mix well.
2. Whisk dijon, honey, Sour Cream and lemon in a bowl and set aside in the fridge.
3. Partially cook chicken on stove top on medium heat for 2 minutes on each side using a frying pan and 1 tbsp of oil. Cut the chicken into 6 pieces per breast.
4. Assemble skewers using pearl onions, bell pepper and partially cooked chicken, in that order. Leave space in between to cook more evenly.
5 Grill until vegetables are tender and lightly charred, brush skewers with mop mix as needed. Make sure chicken is cooked all the way about 8- 10 minutes.
Suggestions:

Serve with pasta salad.
Recipe provided by my friend Chris Orozco.
About Chris
"My name is Chris Orozco. I'm a sous chef waiting for an opportunity of one day running my own kitchen. I'm also a full time student going for my BA in Hospitality Management. My cooking style is Contemporary American and Barbeque but the limit is endless for me. I always had an appreciation and love for food. I recall my mom would always force us to do the dishes after dinner. I hated dishes, so I would cook by her side. That was the bond that both my mother and I had developed over the years. That is my goal, to make simple delicious recipes and build a relationship between food and people. So please enjoy yourself and hope we can build a relationship together."
Email: Chris.Orozco9@gmail.com
IG: @sous_alvinmack